YWZ-76-500 Level Gauge Series
Product Detail
Product Tags
According to the requirements of the science and technology development plan [87400842] of the former Fenggang Committee, the Standardization Institute of the former Machinery Committee and the Information Institute of Shanghai Bureau of Mechanical and Electrical Industry revised the GB1161 standard together, and drafted a new plan of national oil standard. Our company undertook the task of trial production and manufacturing of oil standard. In September 1988 held in Shanghai "oil standard national standard signing meeting" JT, the representatives agreed that the product has the advantages of advanced design, reasonable structure, complete specifications, the Shanghai hydraulic and pneumatic research institute test, the indicators in line with the GB technical requirements, and included in the national standard scheme submitted to the ministry for examination. In 1999, the national GB116L90 new standard was formally implemented, which filled the top gap in the standardization of domestic oil standards.
The YWZ series liquid level and temperature gauge manufactured by our company is a necessary accessory for oil tank, lubricating unit, cooling box and gear transmission box. It can indicate high liquid level and temperature.
This product has the features of novel design, beautiful appearance, clear display of liquid level and liquid temperature, full of three-dimensional sense, etc. It has the advantages of superior assembly performance, firmness, anti-crack, shockproof, leak-proof and so on. The product is designed in 25 different specifications based on tank capacity. The product implements three guarantees.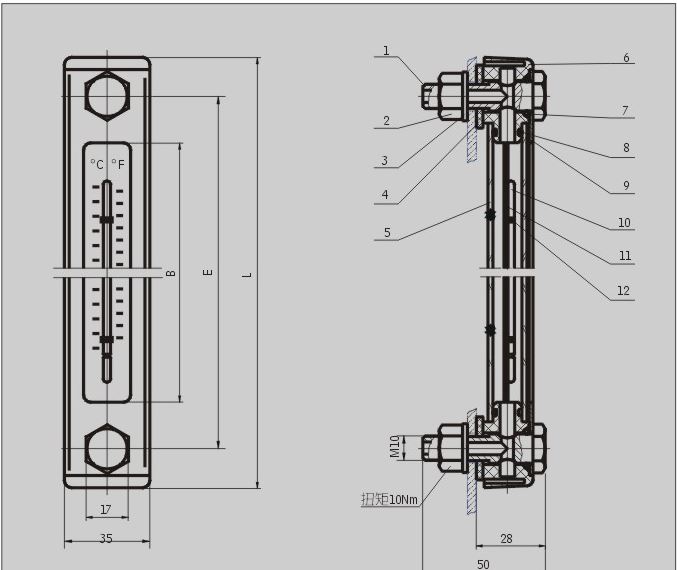 1. screw  2. screw  3. gasket  4. sealing gasket 5. Body  6. Header  7. Circle  8、0 ring 9. shell 10. thermometer 11. sign  12. tie wire
According to the center distance of the selected specifications (D size, two mounting holes are processed. For example, when the wall thickness of the oil tank is WLOM, the light holes of the two mounting screws are 4) 11mm: if the wall thickness of the oil tank is > When 10mm, the thread hole of the two mounting screws is M10. The plane of the above two holes should be treated to prevent oil leakage after installation. Liquid level gauge accessories: screw return, gasket, sealed flat gasket two each, are provided by our company.
Model

Size (mm)

L

E

B

YWZ-76

108

76

37

YWZ-76T

YWZ-80

112

80

42

YWZ-80T

YWZ-100

132

100

62

YWZ-100T

YWZ-125

157

125

87

YWZ-125T

YWZ-127

159

127

89

YWZ-127T

YWZ-150

182

150

112

YWZ-150T

YWZ-160

192

160

122

YWZ-160T

YWZ-200

232

200

162

YWZ-200T

YWZ-250

282

250

212

YWZ-250T

YWZ-254

286

254

216

YWZ-254T

YWZ-300

332

300

262

YWZ-300T

YWZ-350

382

350

312

YWZ-350T

YWZ-400

432

400

362

YWZ-400T

YWZ-450

482

450

412

YWZ-450T

YWZ-500

532

500

462

YWZ-500T
B:Other media (please consult our company)
C:The medium is diesel oil.
T:With thermometer
Omit if without thermometer
Dimensions: E
BH:water glycol
Omit if hydraulic oil  Level gauge
Temperature range and pressure bearing
Ternp. ange:・20°C至+ 100°C :It's measured in Celsius and Fahrenheit ZJX
Pressure class:0.1 〜0.15MPa
According to the tank level to choose the specifications, if the screw hole center distance is 250mm without a temperature meter level gauge, the model is YWZ-250; Note: Do not contact the surface of this product with banana water.
Note: LX YWZ series can be used with YD type level gauge one-way valve, so that the disassembly level timing does not need to drain the oil tank.
2. See page 119 for YD size.
3, YWZ for water glycol, can not bring a thermometer.
---
Previous:
Saf Lockable Breather Filter Series
---
Write your message here and send it to us