Ycx Series Self-Sealing Oil-Sucking Filter On Oil Tank Side
Product Detail
Product Tags
The filter is suitable for removing impurities from the oil at the suction port of the oil pump to protect the oil pump and other hydraulic components, effectively control the pollution of the hydraulic system and improve the cleanliness of the hydraulic system.
The filter is equipped with transmitter, bypass valve, self sealing valve and sewage collecting cup. The utility model has the advantages of large oil passing capacity and small resistance. The main performance characteristics are as follows:
1. The filter can be directly installed on the side, bottom and upper part of the oil tank, and the cylinder extends into the oil of the oil tank. The oil outlet is connected with screw thread and flange to connect with the oil suction port of the oil pump. The pipeline is simple and easy to install.
2. When cleaning or replacing the filter element, remove the self sealing bolt, the self sealing valve installed in the lower part of the cylinder will close automatically, cut off the oil circuit, so that the oil in the oil tank will not overflow. When assembling the filter element, special attention should be paid to installing the core into the positioning slot in the cylinder, and then insert the top bar Enter the positioning hole seat of the self sealing valve, install the upper cover after checking the correct assembly position, and tighten the self sealing bolt. At this time, the self sealing valve will open automatically, and the superheater will enter the working state.
3. In the oil outlet of the Tokamak, there is a tokamak blocking transmitter, which has two functions of visual and automatic transmission. By observing the indicator on the transmitter, the blockage of the filter element can be known at any time. When the core is blocked and the vacuum degree of the oil outlet reaches 0.03mpa, the transmitter will send a signal. At this time, stop the machine to clean or replace the core.
4. There is a bypass valve on the top of Dexin. When the alarm of the transmitter fails to deal with the fault immediately and the vacuum degree of the oil outlet rises to more than 0.032mpa, the bypass valve will open itself and open another oil circuit to protect the filter from damage and avoid the air suction phenomenon of the oil pump, so as to ensure the normal operation of the system.
5. During the operation of the system, when the oil flows through the inner chamber of the filter element, the pollutants exceeding the filtering accuracy of Dexin will be blocked in the filter element and concentrated in the pollution collecting cup. When the filter element is cleaned or replaced, the pollution collecting cup and the filter element will be taken out together, so as to prevent the pollutants that have been filtered from falling into the oil tank again when the Dexin is replaced, so as to maintain the cleanliness of the oil.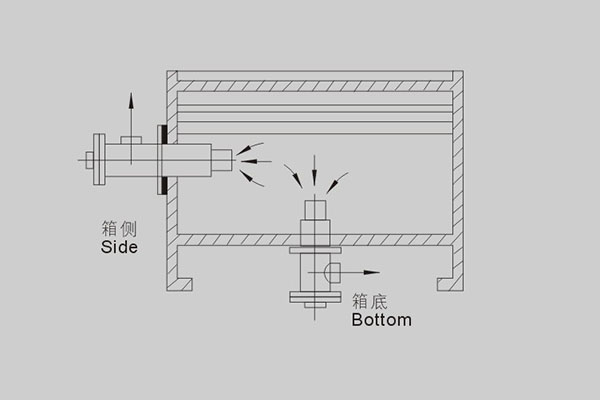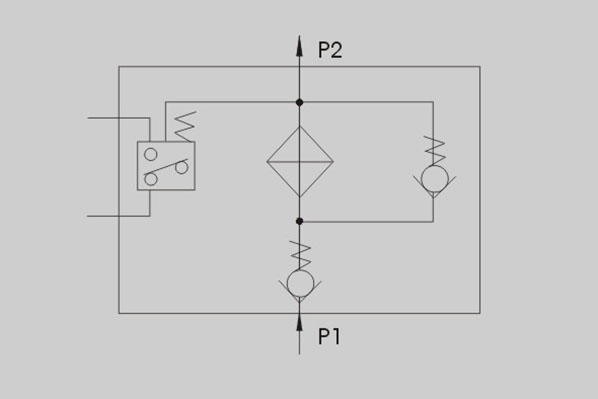 Parameters/Model
Nominal Dia.(mm)
Nominal Flow (L/min)
Filtration Accuracy (Mm)
InitialPressure loss
AllowedMax. Pressure loss
By-pass Opening Pressure
Pressure upon Signal-sending
Signal sending
Connection Mode
FiltrationCore Mode
(MPa)
(V)
(A)
YCX-25X*LC
15
25
80110180
≤0.01
0.03
>0.032
0.03
122436
2.521.5
Threaded
C-X25X*
YCX-40X*LC
20
40
C-X40X*
YCX-63X*LC
25
63
C-X63X*
YCX-100X*LC
35
100
C-X100X*
YCX-160X*LC
40
160
C-X160X*
YCX-250X*FC
50
250
Flanged
C-X250X*
YCX- 400X*FC
65
400
C-X400X*
YCX-630X*FC
80
630
C-X630X*
YCX-800X*FC
90
800
C-X800X*
YCX-1000X*FC
100
100
C-X1000X*
YCX-1250X*FC
110
1250
C-X1250X*
YCX—1600X F C
120
1600
C-X1600X*
Note: * refers to the filtration accuracy. If the working medium is water glycol, the flow rate is 160L / mm, the filtration accuracy is 80m, with transmitter, the filter model is marked as ycx · bh-160x80c, and the filter element model is marked as C-X · bh160x80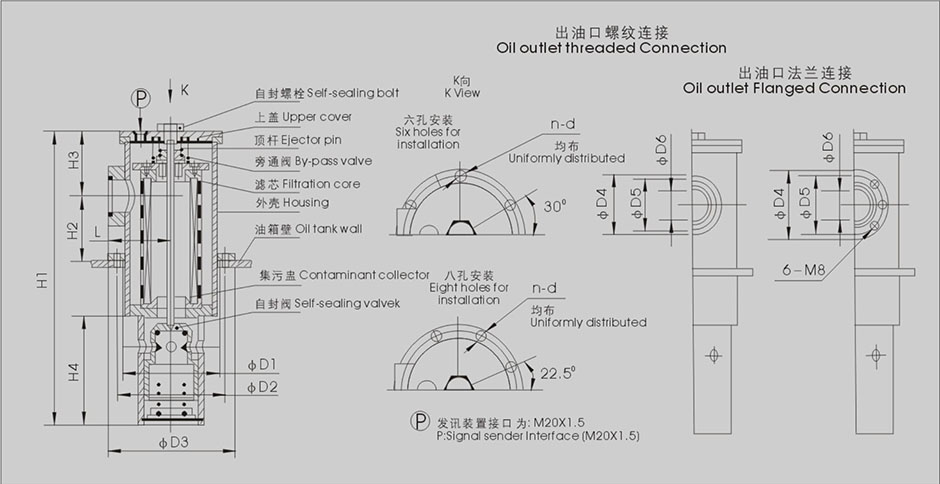 Mode

DI

D2

D3

D4

D5

D6

Hl

H2

H3

H4

L

n-d

YCX-25X*LC

70

95

1 10

35

M22X1 .5

20

216

53

67

79

50

6-7

YCX-40X*LC

40

M2 7X2

25

256

52

YCX-63X*LC

95

115

1 35

48

M3 3X2

31

278

62

85

98

67

6-9

YCX-100X*LC

58

M42X2

40

328

70

YCX-160X*LC

65

M48X2

46

378

70

YCX-250X*FC

1 20

150

1 75

100

85

50

368

85

1 05

1 29

83

YCX-400X*FC

1 46

1 75

200

11 6

1 00

68

439

92

1 25

1 39

96

YCX-63OX*FC

165

200

220

130

1 1 6

83

516

102

1 30

158

no

8-9

YCX-800X*FC

1 85

205

225

140

1 24

93

600

108

1 40

18。

120

YCX-1 000X*FC

205

232

255

166

1 46

110

593

130

1 30

200

140

8-11.5

YCX-1 250X*FC

647

YCX-1 600X*FC

185

164

125

747

140

1 40
The curve is drawn according to the data obtained from test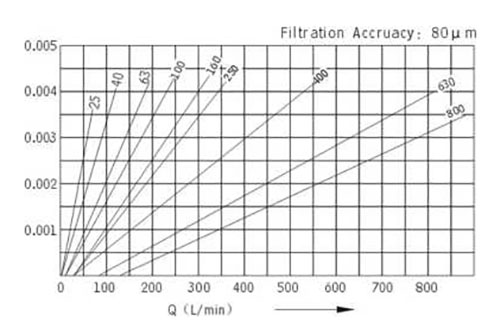 Product: YCX-25 〜800 Oil Viscosity: 30mm2/S(CST)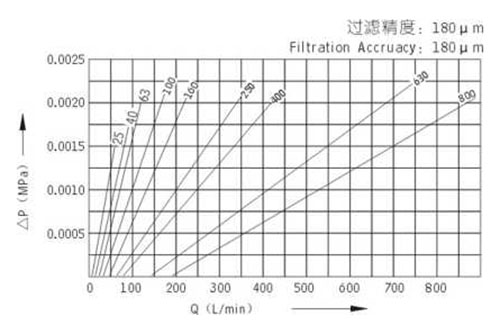 ---
---
Write your message here and send it to us