CYW—76〜500 Level Gauge Series
Product Detail
Product Tags
CYW-76 ~ 500 series sensor type liquid level and temperature gauge is a new product developed by our company on the basis of mass production of YWZ-76 ~ 500 series and reference to foreign advanced technical data.
It takes advantage of the high sensitivity of bimetal sheet in thermal expansion and cold contraction to measure the temperature of oil. This instrument has the characteristics of high accuracy, easy reading, strong and shockproof, etc., can be widely used in a variety of oil tank, lubrication device, cooling and gear transmission box liquid level and temperature measurement.
1. measuring temperature range: 0°C~100°C
2. measuring temperature index value: 1°C/ grid
3. measuring accuracy :2.5 level
4. withstand pressure: 0.15MPa
5. sensor tube insertion medium length: > 90NIM
Dimensions: E
BH:water-glycol
Omit if use hydraulic oil
Level gauge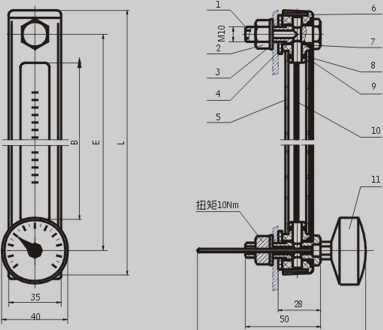 1. Explosive nail
2. Screw
3. Washer
4. Sealing gasket
5. Standard 6. head
7. O-ring
8. ofl? B
9. Shell
10. Weasel
11. Double gold gingival meter
型号

Model

尺寸 Size (mm)

L

E

B

CYW-76

108

76

37

CYW-80

112

80

42

CYW-100

132

100

62

CYW-125

157

125

87

CYW-127

159

127

89

CYW-150

182

150

112

CYW-160

192

160

122

CYW-200

232

200

162

CYW-250

282

250

212

CYW-254

286

254

216

CYW-300

332

300

262

CYW-350

382

350

312

CYW-400

432

400

362

CYW-450

482

450

412

CYW-500

532

500

462
1. According to the old size of the center distance of the selected specifications, two mounting holes should be processed. For example, if the wall thickness of oil bit is WLOM, the light holes of two mounting screws should be 4) 11mm; if the wall thickness of oil tank is > 10mm, the threaded holes of two mounting screws should be M10.
2. after the installation of the standard body, and then screw on the bimetallic thermometer, do not rotate the head to tighten, must be in the head behind the hexagon with the hand tightening.
3. In order to ensure the accuracy of the thermometer, the depth of the sensor tube into the medium to be measured should meet the requirements of "the length of the sensor tube inserted into the medium: > 90mm".
4. In the process of transportation, storage, installation and use, the thermometer should avoid collision, and avoid bending and deformation of the sensing tube.
5. the thermometer often working temperature value in the maximum range of 1/2 ~ 3/4 place is appropriate.
6. Do not contact the surface of the product with banana water.
---
---
Write your message here and send it to us